Janitorial Services by Experienced Professionals Serving Richmond & Chesterfield, VA
Royal Cleaning Services provides customized janitorial services for commercial businesses in Richmond and Chesterfield, Virginia.

We also proudly serve the areas of Henrico, Hanover, Powhatan, and Glen Allen.

When you need a professional cleaning crew to make your business or commercial facility spotless, call RCS.

We show up promptly, work diligently, and leave nothing but a clean commercial space in our wake. Call now to receive a free quote.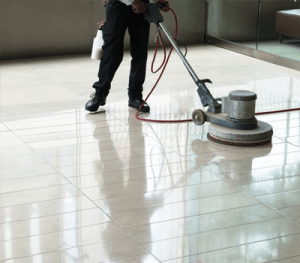 Skilled Janitors Cleaning on Your Schedule
We select each of our janitorial staff members by their willingness to work hard,
their experience levels, and training in the field of janitorial services.

We vet each one of our employees and hold them to the strictest of professional standards.

That means you can guarantee courteous and professional behavior
along with the best cleaning services that operate on your schedule.

Whether you want one-time or regular cleaning, such as weekly or
on the weekends, we will show up ready to work, every single time.
We Also Perform Industrial Cleaning Services
While other types of janitorial companies only work with certain types of commercial businesses, we don't discriminate.

We clean industrial facilities, too. Whether you have a manufacturing, treatment, chemical, or a different kind of industrial facility,
we can clean every inch of your space with safe and potent solutions designed to last.

We feel that a cleaner industrial space is a more productive one.

If you want maximum productivity, call us for the best janitorial cleaning services found near you.
Heavy Duty General Cleaning
When it comes to cleaning your commercial space, we leave no spots untouched.

Floors, walls, windows, surfaces, and even the bathrooms will be cleaned with complete thoroughness.

We can clean showers and locker rooms, breakrooms, and other areas that require a professional's touch.

We only use the most potent and eco-friendly cleaning materials and tools, and guarantee a janitorial job that is always well done.
HEPA Vacuuming
Our janitorial staff doesn't mess around when it comes to dirt and debris.

While standard vacuums can recirculate some particles back into your air supply,
we only use HEPA vacuum cleaners, which help to eradicate all the dirt,
dust, and other small particles in and around your property.

HEPA vacuums are excellent for helping with allergies and respiratory conditions that other vacuum cleaners can worsen.

We take the time to ensure all your floors are clean with the best equipment available. The HEPA vacuum is only one example.
All Types of Commercial Spaces
We have worked with small commercial operations and entire shopping malls.

Whether you have a store, gym, warehouse, or any other type of commercial space,
we have the cleaning personnel and effective solutions to clean your space quickly.
Leave Your Floor Polishing to Us
We stand behind our floor cleaning services.

We use specialized solutions depending on the type of floor you have.

A restaurant with a wood floor will require different tools and solutions than a warehouse with a cement floor, for example.

We never take our jobs lightly and will follow the flooring manufacturer's recommendations
while using the proper tools and techniques to get your floors sparkling clean.

Our goal is to have you walk into work the following day marveling at how spotless
your floors can look, no matter what type of commercial floor cleaning you require.
Heavy-Duty Carpet Cleaning
Keeping your carpeting clean is necessary for keeping the air in your commercial or industrial space pure.

A dirty carpet can accumulate dirt, dust, and bacteria,
and all those impurities can be kicked into the air every time the carpet is stepped on.

We can keep your carpeting clean with high-heat and specialized tools that eradicate
dirt, dust, and bacteria to keep your carpeting and the air as clean as can be.

A cleaner carpet also makes the entire room smell and look more presentable, which is always good for business.
Debris & Trash Pickup
Instead of requiring your staff to pick up and put out the trash,
leave the debris and trash pickup to the professionals.

At RCS, we use eco-friendly trash disposal methods that ensure that
the local environment remains healthy while we dispose of your trash properly.

You never have to worry about garbage accumulating in and around your commercial or industrial property.

We can keep small trash cans clean, and we can even remove large items.

Ask us about large item trash disposal, such as the type we use for hoarding house cleaning.
Restroom Cleaning
Keeping your restrooms clean is essential for hygiene and cleanliness, but also appearance.

Your employees will feel more satisfied with their workplace
if you can manage to maintain the most immaculate bathrooms, including the toilets and urinals.

If you rely on customers walking into your facility, such as a restaurant, retail store, or gym,
your bathrooms had better be clean, or those customers may not return.

Our janitorial cleaning services are ideal for keeping your mirrors, toilet seats and bowls,
urinals, mirrors, stainless steel fixtures, and other bathroom components clean for the long-term.

If you prefer, we can also restock items like toilet paper, soap, and paper towels, keeping your restrooms
fresh and organized for boosted employee morale and customer satisfaction.
Window Cleaning
We can keep your windows and windowsills clean, ensuring all dust and dirt is eradicated.

Your employees and customers should be able to see clearly out of your windows.

Your windows are also necessary for letting in natural light.

When your windows are spotless, your office space will look better and,
with all that dirt and dust missing, your commercial space will also be healthier.
Contact RCS for a Free Quote
Whether you are located in Richmond or Chesterfield, Virginia, or one of the surrounding areas,
you owe it to yourself to get janitorial services by the professionals.

Looking for janitors near you? You've found them. Call now for a free quote.