Discrete & Professional Hoarding Cleanout Services in Richmond, Virginia
Hoarding can leave a home cluttered with all sorts of items.

With an estimated 3.5 million Americans suffering from hoarding disorder, you may never
suspect a family member is a hoarder until you walk in and see all the mess.

We have worked with all types of hoarding situations and can provide discreet
and professional cleanout services when you need it most.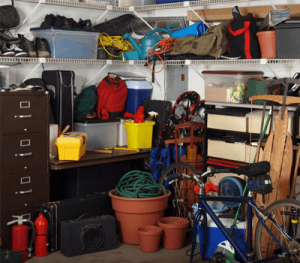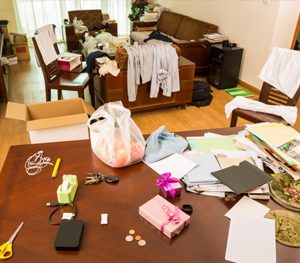 A Cleaner & Healthier Home
Hoarding rarely happens overnight. Instead, it is a gradual process that often gets to the point
where it becomes hazardous to the hoarder and anyone else living in the home.

Whether your hoarding situation has reached a hazardous point,
or it threatens to get there, we can give you fast and thorough cleanout services for a healthier home environment.
Professional Cleaning Staff at Your Service
We understand that emotions can run high when a hoarder suspects
his or her property will be cleaned out and discarded.

This is understandable as hoarding disorder causes a person to collect possessions,
and they have a tough time throwing anything out.

Even seeing someone else throw the items out can cause distress.

Furthermore, all those possessions inside the hoarder's home are probably attached to individual memories,
which makes them terribly challenging to part with.

We use empathy and compassion in these situations so that we can perform our jobs while ensuring that
stress is kept to a minimum for the hoarder and the entire family.
Hoarding Cleanout Professionals at Your Service
Each of our cleaning staff members are thoroughly vetted and trained and
will treat everyone inside and outside the property with respect and consideration.

We also take your privacy seriously and will do our best to keep a low profile as we clean the interior and
exterior of the property before giving it a thorough cleaning.
We Understand Hoarding Disorder
We are one of the few cleaning companies educated on the hoarding phenomenon.

We have the proper certifications, knowledge, and cutting-edge equipment to provide
quality cleanout services for your peace of mind.

If you suspect that a loved one may be in the beginning stages of hoarding disorder,
or you already have a situation on your hands that requires professional cleaners,
call us and tell us about your situation.

We can provide you with a cleanout plan that is tailored for any sized home or office.
Clutter Removal Room-by-Room
We start our hoarding cleanout services by assessing each room of the house.

Since there may be hazardous items in the home, we take this process very seriously.

We use the latest methods and equipment to rid the home of clutter for a healthier and happier home.

We can remove all clutter, disposing of it properly in the fastest and most discreet ways.

In addition, we can help with distributing any items that may belong to other family members,
both local and those living across the nation.

During a hoarding cleanout, there may be paperwork involved,
such as documents required by local government or other agencies.

We can help with all paperwork and remain bonded and insured for your safety, convenience, and satisfaction.
Restore Your Home to Pre-Hoarding Conditions
One look at a hoarder's home, and you may feel the situation is hopeless.

However, to the trained eye, a hoarder home only requires a thorough cleanout process.

Once all the clutter, furniture, and excess junk and debris are removed,
we can give the house a complete and professional cleaning to restore the home to pre-hoarding conditions.
Repair Services & Organization
In some cases, over-clutter and unsanitary conditions can damage the home.

When necessary, we can provide minor repair services for any areas of the home that may have been affected.

We perform all trash removal using eco-friendly methods and can recycle and
donate items when necessary to protect the local environment.

This includes electronics recycling when old computers and other items are found and need to be disposed of.
Documentation of the Hoarding Cleanout Process
Hoarding cleanouts can be massive projects.

To help keep things easier on you and more organized, we can document the cleaning
so that every item is accounted for.

We don't just walk in and start throwing things away. Hoarding situations must be handled with delicate care.

For instance, before we start working, we must develop a plan of action that is customized for your needs.

We can put this plan on paper so that you can see upfront what our hoarding cleanout services will entail and
what our fees will be, without hidden charges or surprises of any kind.
Hoarding Cleanouts Sometimes Reveal Valuable Items
Underneath the piles of clutter and chaos, our cleaning crew is bound to find
items of importance and value that the family would like to keep.

Examples may include jewelry, antique furniture, electronics, and more.

We use strict attention-to-detail and keep account of all items, especially ones of value.

We can even package and transport items to other family members
while removing unwanted items for a cleaner and more organized home.
Call for a Free Quote in Richmond & Chesterfield
There is no shame in seeking help for a hoarding cleanout.

No matter if you have a residential cleaning project or commercial cleaning job, RCS can help.

Your hoarding situation requires experienced hands and cutting-edge tools,
along with compassion and understanding of hoarding disorder.

Let us manage your hoarding cleaning by providing you with a free and accurate quote.

We can have your home cleaned and organized while remaining discrete throughout the process.

For eco-friendly solutions and professional cleaning staff who can handle any type of hoarding situation,
you should always think of Royal Cleaning Services, now serving clients in Richmond,
Chesterfield, and the surrounding areas. Call now to receive a free quote.